What is a Celebration of Life Service Program?
A celebration of life program typically includes a brief biography of the deceased and an itinerary of all the events in the program. The program communicates who will perform readings, deliver a eulogy or sing a hymn, service information, additional details, and the order of events.
Celebration of life programs may also include words or song lyrics to hymns so that guests can sing along. The back cover traditionally contains the obituary information.
Typical Celebration of Life Service Outline
Here is an example of what a general celebration of life template could look like:
Welcoming and the Seating Arrangements
Although, it is not always necessary to offer seating at a celebration of life ceremony, it is still helpful to provide optional seating for older guests who may need it.
If you are concerned about COVID and being cautious, you may want to consider creating space between guests to create social distancing. If there is not an option for any seating, you can still welcome everyone who attends the celebration of life out of respect and courtesy.
It is nice to offer each guest a program (if you have them) or tell each person the order of the events of the service.
Opening Reading or Toast
A great way to open a celebration of life ceremony with a celebratory tone is with a toast. You may also designate someone special to provide the opening of the ceremony with their favorite reading or passage that the deceased would have enjoyed.
Passage Reading or Eulogy
Eulogies or passage readings are common in a funeral service but can be easily incorporated into a celebration of life. If you are in charge of reading or writing the eulogy, you will ensure that you keep the tone celebratory and light to sustain the positive energy of the event.
Celebratory Event
A celebratory activity will vary depending on the wishes of the event planners as well as on the life and personality of the person who passed away.
A few ideas include a video slideshow, a toast, a lantern release, reading from a memory jar, or an open opportunity to share memories or stories.
Thanks and Closing Statements
Including a final reading or passage is a nice way to close the celebration of life service on a thoughtful note. At the end of the service, it is traditional to thank those who attended the celebration of life service. Try to select a reading, quote or passage that keeps the celebratory atmosphere and attitude.
Celebration of Life Services
Celebration of life services are designed to move the memorial of a loved one away from a somber and sad event of a traditional service to a more upbeat and positive celebration of a life that has touched many people.
A celebration of life is a unique celebration service that can be completely customized to fit the needs of you and your loved one. The event can be created in a way that brings out the personality of the deceased loved one. You can choose to have the celebration be religious or spiritual, or not. It is up to you and your wishes.
Celebration of Life Service Ideas
Below are a few ideas to start planning the celebration of life memorial services for your loved one or family member:
Ceremonial Farewell
During a celebration of life ceremony, you may have guests join in the front yard for a ceremonial farewell and to pay tribute to your friend or loved one . Each table has a paper lantern which we would ask that someone at your table bring the lantern to the celebration.
Celebratory Activity
Many families choose to have some sort of celebratory activity during the celebration of life. This can include the guests and people attending. There may be a candle ceremony where guests light candles, or a memorial slideshow that showcases photos of the person who has died and their family.
Decorations
There are many things that you can include as decorations at a celebration of life event. Some examples include photos, a video slideshow, and other personal items that were special to the deceased person.
Life Music
Many people like to include live music during a celebration of life event. Having any type of music is a great way to celebrate with songs that the deceased person enjoyed. Unlike funerals, these celebrations can be uplifting and joyous, and you can enjoy the memories you had with the deceased.
Food and Drinks
What type of food and drinks that you service at a celebration of life will depend on what type of service you are having. If you are holding the event in the morning after a funeral service, you may want to include brunch or lunch food items. If you are hosting an afternoon or evening event, you would typically want to include a full meal.
Include Family Members
It is nice to include friends and family members in the planning of a celebration of life event. Many people want to honor their loved one in some way. Whether it is with a special reading, sharing a specific memory, or a favorite quote. It is nice to include friends and family during these celebrations.
Why Choose a Celebration of Life Over a Traditional Funeral Service?
A celebration of life service is less traditional than a funeral service but gives you the opportunity to create an individualized service to honor the death of a loved one or family member.
A celebration of life service is a celebratory event that focuses more on how a person lived than on how they died. You can have a celebration of life ceremony in addition to, or in lieu of, a traditional funeral service. A celebration of life party is not intended to be all fun and games, there are still grief and tears involved.
A Celebration of Life Program with Eternally Loved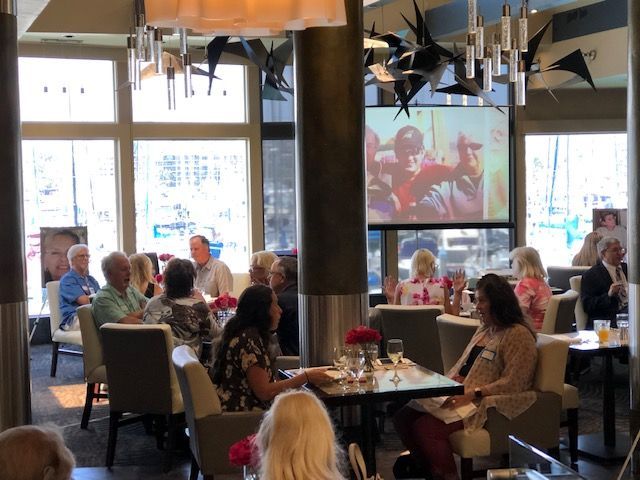 A celebration of life ceremony celebrates life of the dearly departed. Unlike funerals the focus of the ceremony is on the life that was lived and not mourning of one's death.
Family and friends come together and celebrate the special life of your loved one. Our goal is to make the planning process effortless and easier, while exceeding your expectations and creating an extraordinary and memorable experience.
The biggest goal of Eternally Loved is to make things easier for you before the Celebration of Life and on the day, you can truly be present to honor your loved one and get all the support from family and friends instead of worrying about details and having to get there early and/or stay late. This enables you to relax and be present!
We love what we do and have many stellar reviews from past clients that we helped. We are respectful, empathetic, have a positive attitude, attention to detail, ethical, and have the most experience with Celebration's of Life Memorials then any other planners in San Diego/Orange County/Riverside county area.
If you are looking for assistance in planning a celebration of life event, please contact us for additional information on our services and what to expect during the process.