Celebration of Life Centerpieces
Celebration of life centerpieces take thought and time. You want to be sure they are beautiful and represent the dearly departed. Many times you will see fresh flowers included in the centerpiece.
Adding a candles with the fresh flowers can create a great ambiance. To decorate each table, you might also add a photo. Various pictures can be pulled together to create photo ornaments.
Making a Photo Ornament Memorial Tree
A memorial photo tree can be added to your celebration of life centerpieces. Simply print your favorite photo or group of photos on nice card stock. Then find branches from a tree. Use the gathered branches and place in a vase.
Take your collection of photos that you have pasted to card stock and begin to hang them from the branches. You can use a hot glue gun or ribbon to attach them to the branches.
The memories are now on every table for friends and family to enjoy.
What is a Celebration of Life?
When a family member or loved one passes away it can be extremely difficult with the grief process making it a challenge to plan a funeral or memorial service. You want to find a way to pay tribute to the person who has passed away, but you may not know the best way to do that.
The beauty of a celebration of life memorial service is that it can be unique and specific to your loved ones, allowing you to honor them with your favorite memories.
The service for your loved one should be displayed in a beautiful way, representing the life and memory of the person deceased. It can seem overwhelming to think about how hard it is celebrating the life of a person in one single ceremony and moment in time.
The best ideas for a celebration of life should come from your heart, and the planning process should include family and friends.
How is a Celebration of Life Different from a Funeral or Memorial Service?
Although, it may seem like all life celebrations are the same, they can differ quite a bit. A traditional funeral service is considered one of the more customary memorial services and has a more specific timeline of how the event and planning of activities should go.
A celebration of life celebration can be unique to the family members and others involved and can be individualized to honor the life of the deceased person. Everything from the life decorations, flowers, photos, guest book, welcome sign, etc. can be catered to the needs and wants of the family and guests.
A Funeral and a Celebration of Life Have Some Things in Common
A funeral and a celebrations-of-life have some things in common, however they can appear quite different.
Both are a life celebration; a gathering of family and friends who share a common loss and want to share the loved one's honor. Funerals are more rooted in tradition, while a celebration of life is the result of recent changes in social norms.
Three Things A Funeral and a Celebration of Life Share:
One – Help the Bereaved
Help the bereaved family, loved ones, friends and their community, publicly acknowledge the death of one of their own with memories, a service and other ideas to honor them.
Two – Have a Ceremony
Have a ceremony to move the deceased from living to passing in a meaningful way.
Three – Support the Grieving
Many cultures support the grieving family by surrounding them with caring friends, neighbors, family, and co-workers.
Although, there are some differences, the goal of a life celebration and funeral is always the same, and that is provide a beautiful tribute for a loved one or family member.
Celebration of Life Ideas
There are so many great ideas and activities that you can do to honor your loved one. It is important to involve others in the process, including the mother, father, and in-laws such as mother-in-law, father-in-law, and siblings.
Much like a wedding, it takes a lot of planning to create the perfect celebration of life service. There are small details involved in the planning of this type of celebration.
List of Items for to Celebrate Your Loved One's Memory
Gathering of photos
Gathering photos seems simple but determining how you want to use them will help decide the number you need. A popular way to utilize photos is to create a video. Based on how the music and photo combination you could need up to sixty photos ranging in time.
Choosing flowers
Choosing flowers often includes the favorite flower of the deceased. Once the flower choices are made the celebration of life centerpieces can be constructed. Additional flowers may be used to decorate the table with food.
Preparing a memory table
A memory table usually shares stories of the loved one's life. Imagine favorite memories like the loved one's team jersey, favorite album, alumni organization, trips that were taken. Just a moment in time that is expressed on this table for others to see.
Getting a guest book to track the guest list
Getting the guest book is easy. You can find one at just about any store or order one on Amazon.
The guest list is another story. It is rare that people send invitations to a celebration of life, memorial service, or funeral. For example, to determine exact amounts of food and drink, celebration of life centerpieces to be made, candles ect.
Determine if personalized messages will be included in the program
A personalized message can be part of the celebration. Doves can be released or lanterns go be released. To write a loving statement to include in this process can be healing.
Write the program
The order of how the actual service will be is an important task. To write and then print the program is important.
Choose the music
Do you want music playing throughout the service? If so having a playlist ready is important. Also choosing the songs for the video if one is being made.
Choose the specific celebration of life decorations
The specific decorations will be based on the time of year and the facility the celebration of life, funeral or memorial service will be held.
Guests like to have a take away. This can be the flowers or something more specific like a candle or tea light. The centerpieces are almost always taken home by friends and family.
Flowers
A major component of your celebration of life ideas should include flowers. These could be the favorite flower of your loved one or family member. The type and color chosen often matches the theme of your event.
Pictures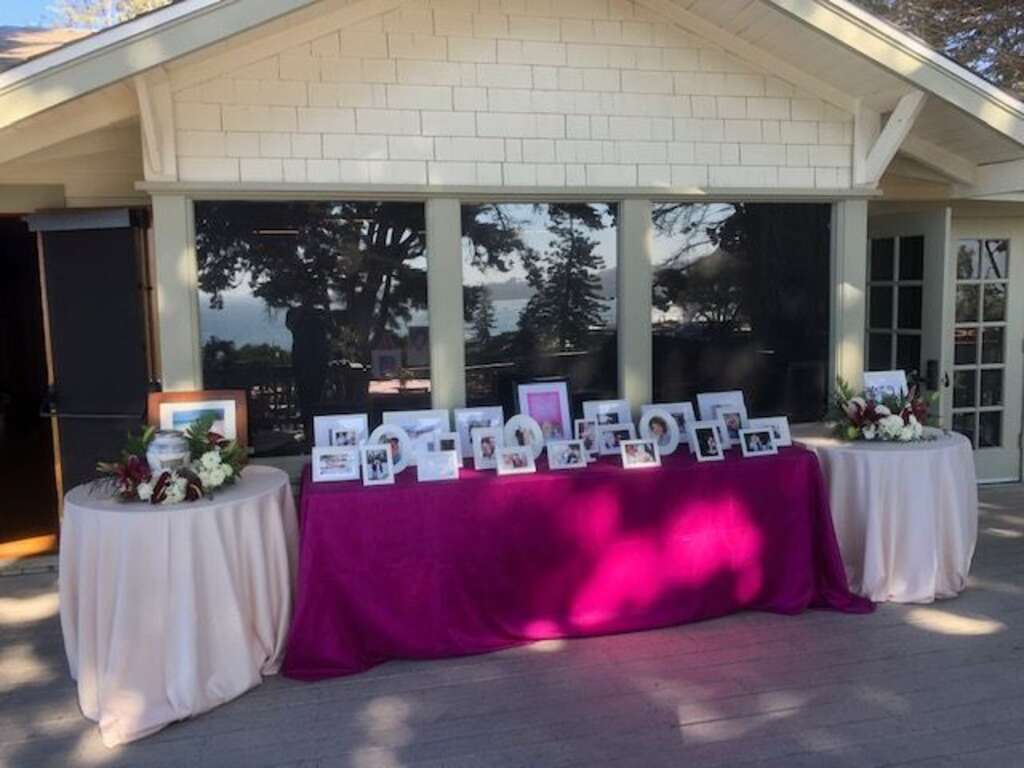 Having a memorial table with pictures and memory cards can be a really great idea and a way to create special memories during your memorial service.
Guest Book
It is always nice to have a guest book included at a celebration of life for a loved one. You can also include memory cards for the guests to fill out. This can be butterfly memory cards that you attach to a tree or other stand to display to all the other guests.
Decorations
If you are tight on budget, you can always consider shopping at somewhere like the dollar store, which also offers great ideas and decorations for the celebration of your loved one.
What Decorations Should I use for a Celebration of Life?
One of the most important aspects of the celebration of life ideas is the decorations that you choose to use at the celebration. Common decorations include mason jars, butterfly memory cards, memorial tree, flowers, pictures, a garden, and other ideas that you think would best fit the theme of your service.
To create a nice celebration, you can involve others in the planning such as the family members, father-in-law, mother-in-law, siblings, and spouses/significant others.
There may be specific photos, a favorite flower, memory cards, guest book, or many more ideas they want to include in the planning of the event.
Maybe the deceased is an avid reader, or they were part of a book club, in this case you could share some of their favorite books throughout the celebration of life. Or you can include your loved one's favorite charity and have guests pay tribute to that during your celebration of life service.
A Celebration of Life Memorial Service Ideas with Eternally Loved
Eternally Loved is a full-service celebration of life and memorial service event service company. We take the stress of planning a celebration of life away, and help you focus on honoring the memory of your family or loved one. Leave the details up to us, we can help determine the best location, manage guests, and create a life celebration that you will remember.
We understand the multitude of planning this type of event, and how important it is to pay tribute to the memory of your family. Therefore, we work with you to create a lovely event to celebrate them.
Feel free to give us a call for a free consultation on our celebration of life service options as well as learning more ideas for your special event. If you need help with celebration of life ideas, please contact our team for additional information.